Find the Ford Parts You Need at Adams Ford Company, Serving Louisiana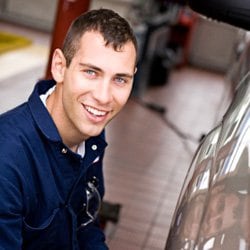 When it comes to buying parts, Logansport drivers can look to the Adams Ford Company team with confidence! Whether tired of slogging through pages and pages of inventory on the internet just to find a single part or you just don't have the time, the Adams Ford Company parts department is ready to help! Our staff of professionals is well versed in the world of parts. From Ford parts to nearly any other parts drivers might be after, Adams Ford Company can help! The Adams Ford Company team will work with drivers to find parts for your F-150, Escape, Explorer, Bronco Sport or Ranger - no matter what Ford model you drive, the Adams Ford Company service team can likely help!
OEM Ford Parts Make Part-Hunting Easy
All the auto parts that you find here at Adams Ford Company are backed by their OEM, meaning that they're designed by your car's manufacturer for your specific type of car. So, what does that mean for you? OEM Ford parts can boost your confidence and help you save time on searching because they cut out the guesswork that goes into shopping off-brand parts. OEM parts provide the right fit every time.
Order Your Parts & Accessories Today in Logansport
Since we have a connection to Ford, we can get any product for your vehicle, and if you aren't planning a DIY project, our service team at Adams Ford Company can take care of everything for you. You'll bring your F-150, Escape, Explorer, Bronco Sport or Ranger to us with confidence knowing that we only use the right parts for your vehicle and nothing less. Visit us in Logansport to get started.